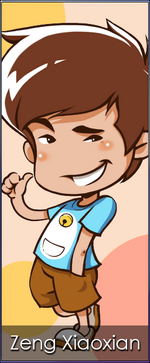 | | | | | | | | | | | |
| --- | --- | --- | --- | --- | --- | --- | --- | --- | --- | --- |
| HP | | | |  8 | | | | | | |
| AD | | | | 7 | | | | | | |
| AP | | | | | | | | | | |
| Support | | | 6 | | | | | | | |
| Difficulty |       2 | | | | | | | | | |
| Gold | N/A | | | | | | | | | |
| Diamond | N/A | | | | | | | | | |
| | | | |
| --- | --- | --- | --- |
| Health Point | 589 (+85) | Attack Damage | 54 (+3.1) |
| Mana Point | 300 (+35) | Attack Speed | 0.69 (+0.03) |
| Armor | 18 (+3) | Move Speed | 307 |
| Magic Resist | 33 (+1.25) | Range | 130 |
Abilities
---
Good Man
Cost: -   Cooldown: -
Passive - Zeng reduces the Attack Speed of any enemy that attacks him with basic attacks by 40% for 1 second.
---
Silver Sword Tempest [Q]
Cost: 60 Mana   Cooldown: 12 seconds
Active - Zeng rapidly spins his sword around for 5 seconds, losing the ability to perform basic attacks and dealing 10/15/20/25/30 + [0.2 Bonus AD] physical damage per 0.25 seconds to enemies hit for the duration. The damage dealt is increased by 50% if the target is currently affected by Fudge debuff.
---
Fudge [W]
Cost: -   Cooldown: -
Passive - Every time Zeng performs a basic attack on an enemy unit, he applies a Fudge debuff for 5 seconds. If an enemy who has the Fudge debuff goes further than 500 range from Zeng, the debuff will get removed and deal 70/120/170/220/270 + [1.0 AD] physical damage.
---
Harass [E]
Cost: -   Cooldown: -
Passive - Every instance of Zeng's skill damage on an enemy unit has a 14%/18%/22%/26%/30% chance to taunt the enemy unit for 0.75 seconds. Taunted targets become uncontrollable and attack only Zeng. Any target that is currently taunted by this ability cannot be taunted again.
---
Facade [R]
Cost: 100 Mana   Cooldown: 70 / 50 / 30 seconds
Active - Zeng stops for a bit to help an enemy hero relieve itself, dealing 350/500/650 + [1.5 AD] physical damage. If the target is not killed, Zeng restores the target's Health for 10% of the skill damage per second for a total of 50% within 5 seconds and reduces the target's Movement Speed by 30% for the same duration.
Note - If Zeng uses this ability while he is using Silver Sword Tempest [Q], The Silver Sword Tempest [Q] will end its own effect.
---
Skins
---

Zeng Xiaoxian
Ad blocker interference detected!
Wikia is a free-to-use site that makes money from advertising. We have a modified experience for viewers using ad blockers

Wikia is not accessible if you've made further modifications. Remove the custom ad blocker rule(s) and the page will load as expected.