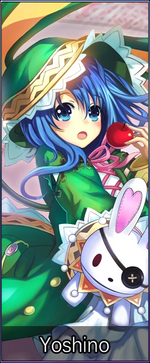 | | | | | | | | | | | |
| --- | --- | --- | --- | --- | --- | --- | --- | --- | --- | --- |
| HP | | | 6 | | | | | | | |
| AD |       2 | | | | | | | | | |
| AP | | | | 7 | | | | | | |
| Support | | | |  9 | | | | | | |
| Difficulty | | | 6 | | | | | | | |
| Gold | 6000  | | | | | | | | | |
| Diamond | 45 | | | | | | | | | |
| | | | |
| --- | --- | --- | --- |
| Health Point | 550 (+76) | Attack Damage | 50 (+3) |
| Mana Point | 358 (+48) | Attack Speed | 0.66(+0.03) |
| Armor | 15 (+3) | Move Speed | 300 |
| Magic Resist | 33 (+0) | Range | 480 |
Abilities
---
Spirit Dress of God's Authority, Number 4
Cost: -   Cooldown: -
Passive - Yoshino gains a shield every 20 seconds, up to a maximum of 3 shields. Each shield reduces any damage taken by 10%. Each attack Yoshino receives from an enemy hero or turret will destroy 1 shield.
Passive - Any targets hit by Yoshino's skill damage will have their Movement Speed reduced by 25% for 2 seconds.
---
Frost Manipulation [Q]
Cost: 40 / 50 / 60 / 70 / 80 Mana   Cooldown: 7 seconds
Active - Yoshino snaps the target, dealing 50/90/130/170/210 + [0.65 AP] magic damage to the main target and all nearby enemy units within 250 radius while applying Forst mark on the main target for 4 seconds. Each allied hero's basic attack (including Yoshino) on the marked target will deal an additional 20/30/40/50/60 + [0.1 AP] bonus magic damage. The Forst mark can't be applied on the Sky Dragon of Osiris.
---
Arctic Ice Wall [W]
Cost: 60 / 70 / 80 / 90 / 100 Mana   Cooldown: 20 / 18 / 16 / 14 / 12 seconds
Active - Yoshino summons an ice wall on a target location with a 1 second delay, dealing 40/75/110/145/180 magic damage to all enemies hit and freezing them for 1 second.
---
Defense Enhancement [E]
Cost: 90 Mana   Cooldown: 16 / 15 / 14 / 13 / 12 seconds
Passive - Yoshino gains an aura that grants 4/8/12/16/20 bonus Armor and Magic Resist to herself and all nearby allied heroes.
Active - Yoshino shields an allied target with a globe made of ice that can withstand 60/120/180/240/300 + [0.4 AP] damage for 4 seconds. If the shield is destroyed or Yoshino casts this skill again within its duration, the shield will detonate itself to deal 50/100/150/200/250 + [0.4 AP] magic damage to all nearby enemies within 250 radius.
---
Zadkiel (Freezing Puppet) [R]
Cost: 100 / 125 / 150 Mana   Cooldown: 170 / 150 / 130 seconds
Active - Yoshino summons Yoshinon (A giant puppet) at Yoshino's current position, freezing all enemies around Yoshinon for 0.2 seconds while creating a snow field around it that lasts for 4 seconds. All allied units within the snow field receive 5%/10%/15% Damage Reduction while enemies near the edge from inside the snow field take 20/40/60 + [0.2 AP] magic damage per 0.5 seconds. Enemies inside the snow field can't see anything outside the snow field and the enemies outside the snow field can't see anything inside the snow field. All skill projectiles from enemies can't pass through from outside the snow field.
Note - The damage of this skill cannot trigger most item effects (such as Winter Scepter).
---
Skins
---

Yoshino

Halloween Witch Yoshino

Anniversary Party Yoshino
Ad blocker interference detected!
Wikia is a free-to-use site that makes money from advertising. We have a modified experience for viewers using ad blockers

Wikia is not accessible if you've made further modifications. Remove the custom ad blocker rule(s) and the page will load as expected.