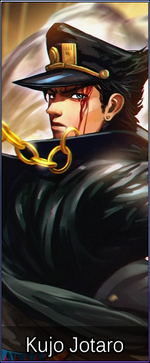 | | | | | | | | | | | |
| --- | --- | --- | --- | --- | --- | --- | --- | --- | --- | --- |
| HP | | | 5 | | | | | | | |
| AD | | | | 9 | | | | | | |
| AP | | | | | | | | | | |
| Support | | |  6 | | | | | | | |
| Difficulty | |  4 | | | | | | | | |
| Gold | 6000 | | | | | | | | | |
| Diamond | 45 | | | | | | | | | |
| | | | |
| --- | --- | --- | --- |
| Health Point | 568 (+84) | Attack Damage | 55 (+3.5) |
| Mana Point | 0 (+0) | Attack Speed | 0.64 (+0.03) |
| Armor | 15 (+3.2) | Move Speed | 302 |
| Magic Resist | 33 (+1.25) | Range | 349 |
Abilities
---
Stand Messenger
Cost: -   Cooldown: -
Passive - Here's your receipt. Each time Jotaro receives damage or performs his basic attacks increases Jotaro's Attack Speed by 10% and Evasion Rate by 5% for 3 seconds, stacking up to 4 stacks. Each of Jotaro's basic attacks grants 10 Rage, Each hero kill grants 70 Rage, and each assist grants 30 Rage.
---
Ora Ora Ora Ora Ora Ora [Q]
Cost: 70 Rage   Static Cooldown: 1 seconds
Active - Ora Ora Ora Ora Ora Ora! Jotaro summons Star Platinum to throw a series of punches in a line for 1.5 seconds, dealing 4/8/12/16/20 + [0.12/0.13/0.14/0.15/0.16 AD] physical damage per 0.1 seconds to all enemies hit and each hit reduces target's Movement Speed by 3% for 2 seconds, stacking up to 10 times (30%). Jotaro's basic attacks can reset the duration of Movement Speed reduction from this skill. Jotaro is unable to perform basic attacks during the skill's duration.
Note - This skill is not affected by cooldown reduction effects.
Note - The damage of this skill cannot trigger most item effects (such as Zangetsu).
---
Star Finger (Meteor Finger Thorn) [W]
Cost: -   Cooldown: 12 / 11 / 10 / 9 / 8 seconds
Active - Jotaro orders Star Platinum to extend its middle and index fingers and stab in a line, dealing 70/110/150/190/230 + [0.5 AD] physical damage to all enemies hit and stunning them for 0.5 seconds.
---
The Dark Side of Time [E]
Cost: -   Cooldown: 20 / 19 / 18 / 17 / 16 seconds
Active - Jotaro gains 30% bonus Movement Speed and 30/35/40/45/50 bonus Attack Damage for 4 seconds. Each damage taken during the duration of this skill grants him 10 Rage.
---
Star Platinum - The World - [R]
Cost: -   Cooldown: 110 / 100 / 90 seconds
Passive - Whenever he receives any damage from a hero every 50/44/38 seconds, Star Platinum will freeze the attacking hero in time for 0.5 seconds. The Time Freeze effect cannot be removed or reduced by any effects.
Active - Jotaro freezes the target enemy hero in time, rendering the target to be unable to do any actions for 2 seconds while increasing the damage they take from Ora Ora Ora Ora Ora Ora [Q] by 30%/40%/50%.
---
Skins
---

Kujo Jotaro

Marine Biologist Jotaro
Ad blocker interference detected!
Wikia is a free-to-use site that makes money from advertising. We have a modified experience for viewers using ad blockers

Wikia is not accessible if you've made further modifications. Remove the custom ad blocker rule(s) and the page will load as expected.